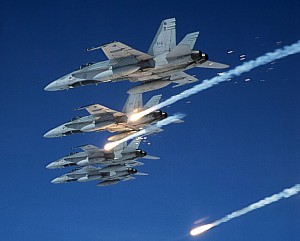 Commands are the second largest permanent units, with only air forces being larger. Commands can contain any number of stations, though will usually stay at around two to eight, with higher amounts being rarer. The amount of aircraft in a command will usually range from thiry-two to two-hundred-fifty-six, rarely going higher.
Structure
Edit
Commands will usually permanently contain anywhere from two to eight squadrons, although they can have more. Along with said squadrons, a command will also contain a command staff. The command staff consists of a generic commander (air vice marshal), a second in command (air commodore), an administrative officer and a medical officer (group captains), an intelligence officer and a signals officer (chief warrant officers), and two quartermasters (master warrant officers).
A command acts as the administration for multiple stations, over a region (province, state, region, etc.), a group of small regions, or a small country. Usually, a command will provide administration for stations within a given province.
Integration
Edit
There are any number of stations in a command, although it is usally from two to eight, and there are any number of commands (usually less than ten) per air force. Commands are named by their location, with the title "Royal" before the name. Example: the Royal Ontario Command, which is located in Ontario Canada.
Composition
Edit
2-8 Stations (16 to 96 aircraft)
2 Master Warrant Officers
2 Chief Warrant Officers
2 Group Captains
1 Air Commodore
1 Air Vice Marshal
ZX Clan Air Force Units
Edit
Community content is available under
CC-BY-SA
unless otherwise noted.