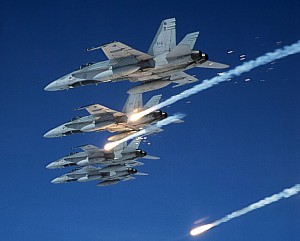 A wing is a medium-to-large unit that contains three or four squadrons. It is nearly half the size of its permanent counterpart, and is deployed in a theatre (or a "field" in other terms). A wing is the smallest temporary unit and is usually made up of squadrons of the same type, though this is not always the case.
Structure
Edit
A wing is essentially just a small, temporary station, in terms of its organization at least. Wings will contain three or four operational squadrons (not training squadrons), which are usually all the same type, and a small airbase.
The staff of the airbase contains the air traffic control staff, the takeoff and landing staff, and the command staff. The air traffic control staff contains a team of radar operators and directors, led by a sergeant. The team is further divided into two smaller teams, each contains three aircraftmen, leading aircraftman and senior aircraftmen, and is led by a corporal. In the takeoff and landing staff, there is also a sergeant-led team that contains two smaller teams. Each team is led by a corporal and contains three other, lower-ranking members. The overall base staff (the air traffic control staff, and the takeoff and landing staff) is led by a flight sergeant. The maintenance staff is led by two sergeant quartermasters, and has a flight sergeant in charge of the overall maintenance crew.
The command staff contains a commander (wing commander or group captain), a second in command (squadron leader), and a quartermaster (warrant officer). The quartermaster is mainly in charge of the base staff and the maintenance staff.
Wings function as the deployment unit for squadrons. They act like brigades to battalions and armoured regiments in the army and the marine corps. Wings may contain any type of squadron, although they usually have only one type. Although they will have different types of squadrons in some cases.
Integration
Edit
Wings contain three to four squadrons (forty-eight to sixty-four aircraft) each, and two to four wings make up a group. Wings are designated Wing One, Two, Three or Four within their group.
Composition
Edit
3-4 Squadrons (16 aircraft)
12 Aircraftmen/Leading Aircraftmen/Senior Aircraftmen
4 Corporals
4 Sergeants
2 Flight Sergeants
1 Warrant Officer
1 Squadron Leader
1 Wing Commander/Group Captain
ZX Clan Air Force Units
Edit
Community content is available under
CC-BY-SA
unless otherwise noted.